Result Driven
Providing instruction and mentorship to all goaltenders who are looking to improve their game.
Words we live by
We believe each goalie is unique. No goalie should be trained to play a "cookie cutter" style, but rather a style that will improve their game and compliment their strengths.
Each goalie is trained to possess strong fundamentals and positive habits, while addressing and removing all bad habits.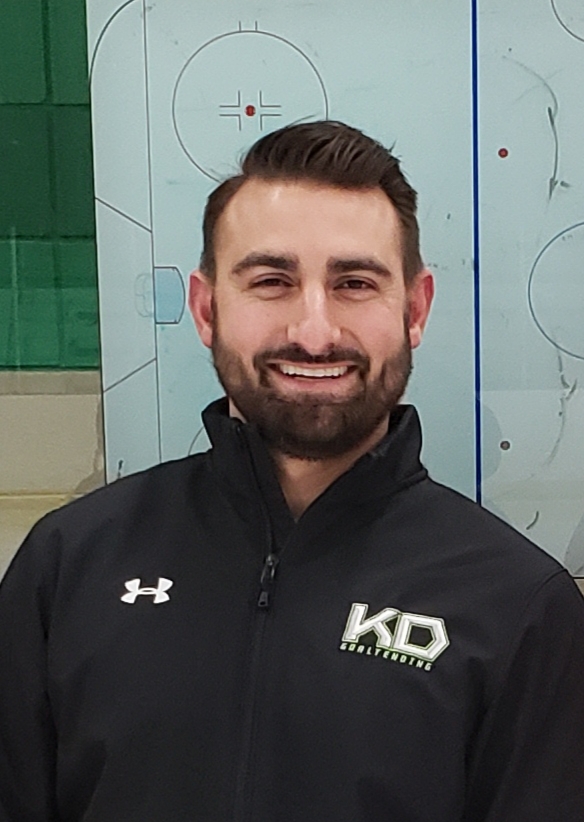 KD Goaltending LLC is founded and operated by Kevin Delamarter.
Kevin began playing goalie at 9 years old. He developed an eye for technique and different styles of play, all while perfecting his own style. Kevin played high school, AAA, and finished playing competitively at Ferris State University (ACHA) with MVP and captain honors.
Kevin began coaching during the summer months of college for a hockey academy based out of Rochester, NY. Following college graduation, Kevin moved to the Metro Detroit area and continued to grow as a Goaltending Coach.
During this time, KD goaltending was born, offering private training, team practice training, and video analysis to goaltenders of all levels. KD Goaltending provides coaching to goalies from the beginner level, Tier 2, AAA, High School, Junior and NCAA.
- Dave Genette - Goalie Parent
"Kevin took my son, Nick, from a 1st year house goalie to a travel goalie in less than a season. In my son's first season in travel, he had the best goals against in his division and was in the top 10 for all LCAHL 06 tier 2. More importantly, Kevin taught him confidence, good habits, work ethic, and mental toughness. My son went from enjoying the position to LOVING the position. Nick would not be where he is today without Kevin as his coach."
- Geoff Bennetts - 14U Honeybaked AAA Girls Head Coach
"We have had the pleasure of having Kevin as our goalie coach for the past several years. Kevin does a great job assessing our goalies needs and providing meaningful feedback for their overall development. He's an asset to our team and our girls program."
- Jeff Robbins - 2006 Troy Sting Head Coach
"Kevin's attention to detail and his ability to clearly communicate / demonstrate the technical aspects of becoming a better goaltender has undoubtedly improved our team's goalie performance this season. Kevin also possesses the integrity, dependability and passion for improving his student's abilities that we look for in any coach that works with our team."