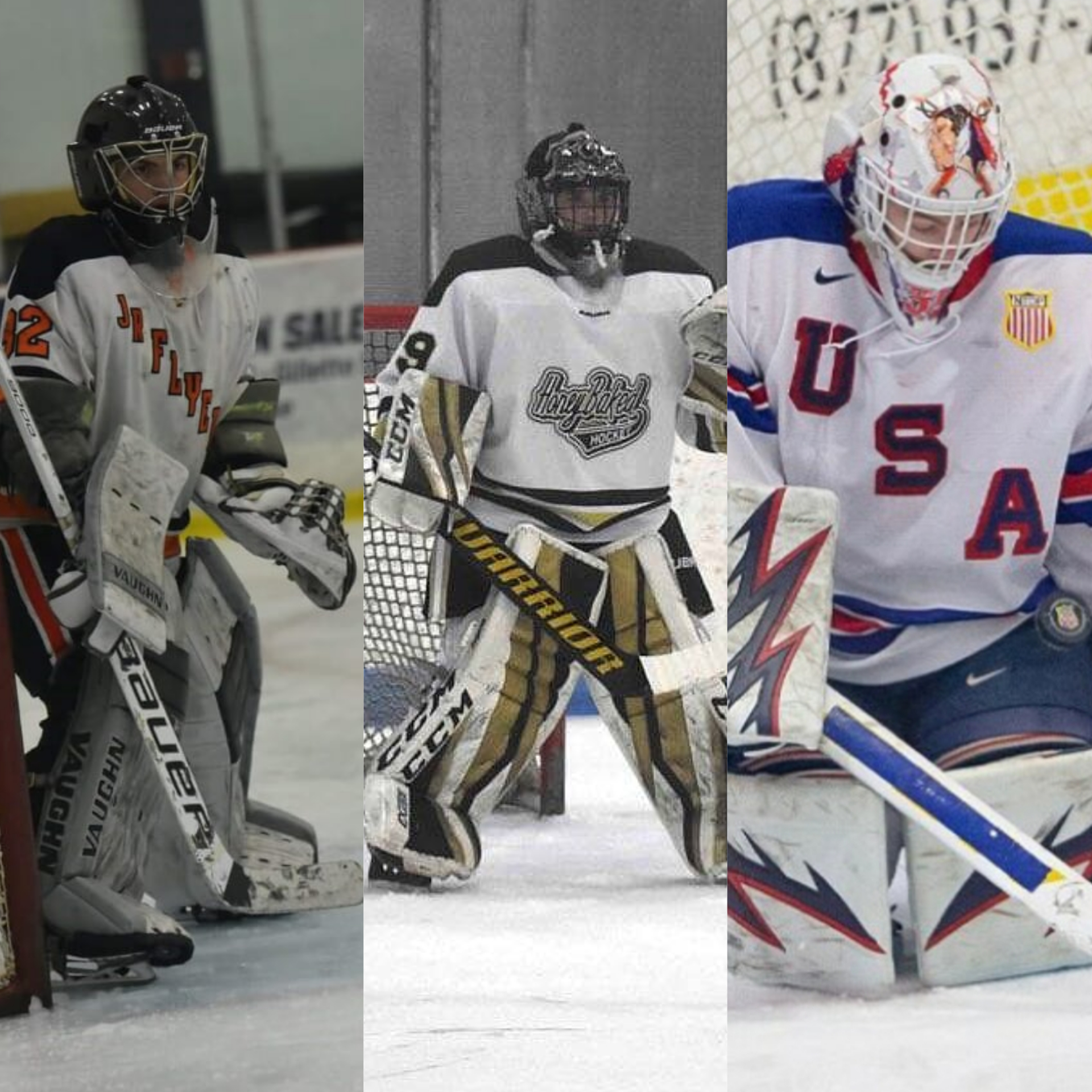 - Bob Sommerfeldt - Honeybaked Tier II U18 Coach
"Kevin has worked with our teams' goalies for about 4 years now. He has been very accommodating to schedule into our practice ice time and also offer private lessons for the goalies to have more focus one on one time. Kevin does a terrific job engaging the goalies to work hard and focus on their weaknesses while also challenging them with new moves and concepts every practice. The players enjoy working with Kevin since he has a genuine love for the sport, a high level of enthusiasm for teaching, the ambition to motivate the players best efforts with an incredible positive attitude.
Kevin brings new drills to every practice that both reinforce the skills each individual goalie needs to reduce bad habits and advance the players capabilities. Kevin has advanced every one of our goalies to become top players at each level we have competed. I have worked with several goalie coaches over the 8 plus years of coaching and Kevin has been hands down the best goalie coach I have had the pleasure to work with. He is a pleasure to work with, brings a high level of skill and ambition to his coaching and is a terrific person all the way around."
- Chuck Proctor - 2006 Royal Oak Eagles Head Coach
"I have known Kevin for 6 years and he has been my goalie coach the last 4 years for my 2006 Royal Oak Eagles travel team. I can without doubt say that he is one of the best coaches I have ever had the pleasure of working with. Not just as a goalie coach but as a coach, period. I have been involved with coaching hockey since 2004 and have coached at every level from house to AAA and Kevin is superb. He not only has an attention to detail that most do not but he also knows how to relate to the kids whether it be boys or girls. He has a way of getting his point across on what he is teaching in a positive way that makes the kids excited to come to practice. If every coach had his work ethic and great demeanor hockey would be better for it."
- Dave Bugeja - 09 AAA Goalie Parent
"My son was a goaltender on a struggling AAA team who had seemingly lost some of his excitement for the game. Just a few weeks after beginning to work with Kevin his passion for the game has been rekindled. Kevin's active coaching style and instant feedback has really clicked with him and helped him find his love for the position again. Along with the passion for the game, Kevin's technical expertise has also cleaned up his game quite a bit in a short time. Can't wait to see what Kevin can unlock in him moving forward."
- Dave Genette - 06 AAA Goalie Parent
"Kevin took my son, Nick, from a 1st year house goalie to a travel goalie in less than a season. In my son's first season in travel, he had the best goals against in his division and was in the top 10 for all LCAHL 06 tier 2. After the 3rd season he made AAA and has since moved onto the USA Development Camp. More importantly, Kevin taught him confidence, good habits, work ethic, and mental toughness. My son went from enjoying the position to LOVING the position. Nick would not be where he is today without Kevin as his coach."
- Erik Schwartz - Goalie Parent
"Working with KD Goaltending has had a major impact on our daughter's technical skill level and ability. When she first started her 1:1 sessions with Coach Kevin, she could not make a top-level Tier 2 team. After just eight lessons, she made a nationally recognized Tier 1 team. She has continued to work with KD Goaltending at team practices, private sessions and clinics. Not only does she continue to build on her skills, but her confidence has also grown significantly. The staff is always professional, and tailors each session to our daughter's specific needs. She is excited to continue working with Coach Kevin and his staff."
- Geoff Bennetts - 14U Honeybaked AAA Girls Head Coach
"We have had the pleasure of having Kevin as our goalie coach for the past several years. Kevin does a great job assessing our goalies needs and providing meaningful feedback for their overall development. He's an asset to our team and our girls program."
- Graham Fett - Goalie Parent
"My son has had a great experience working with Kevin this season in both team and individual training. Kevin provides beneficial feedback to the goalie and parents after every session. He is very energetic and motivated to help the goalies get the most out of every practice. He provides continuous updates on dates/times he is available for outside lessons which is very helpful during the season. I would highly recommend Kevin for all levels of goalie training."
- Gretchen Hebekueser - 07 Goalie Parent
"Kevin is the kind of coach you want for your child.  He instructs at the level of the goalie, explains why they are doing a certain skill and also explains what went wrong in a drill and makes sure your goalie knows where the breakdown happened.  Kevin incorporates hard work, fun and video capture to instruct and push each goalie to their very best. Kevin has an element of professionalism on and off the ice – with goalies and parents."
- Jeff Robbins - 2006 Troy Sting Head Coach
"Kevin's attention to detail and his ability to clearly communicate / demonstrate the technical aspects of becoming a better goaltender has undoubtedly improved our team's goalie performance this season. Kevin also possesses the integrity, dependability and passion for improving his student's abilities that we look for in any coach that works with our team."
- Jim Maddox - Goalie Parent
"Kevin has been working with my daughter since she was 10. She is now 14 and is playing at a very high level. Kevin's ability to identify areas for improvement and create a customized plan for the individual goalie is fantastic. Kevin has also attended many of her team practices to work with the goalies and ensure the day to day coaching staff is on board with his goalie training plan. Like many of you reading this, we worked with many goalie coaches in the past. Once we found Kevin, we wouldn't consider another coach. He has a unique ability to motivate and hold goalies accountable in a very positive way. I can't say enough about Kevin and KD Goaltending."
- John Warner - 06 Goalie Parent
"
My son has had the opportunity to work with Coach Kevin for the last several years.  He has worked with several great goalie coaches over the years and Kevin is the best coach he has had work with him.  He truly identifies where a player is at and works with them to improve their play so they can get to the next level.  Kevin has several strengths, and one of his greatest strengths is being able to communicate to his players.  When he is teaching a technique, they understand what he wants and can improve.  He knows how to push his players and they want to play for him.  Kevin is a high character coach that truly cares about his players.  When you combine his communication skills with his knowledge of the game and his passion, there is no one that I would rather have my son work with.  I highly recommend him to any parent or player.
"
- Katie Jablynski - NCAA Goaltender
"I started working with Kevin this past summer in preparation for my upcoming freshman year of college. I knew going into the season that NCAA hockey is very different then previous AAA I have been playing, and I expressed to Kevin that I wanted to develop into a college goalie. I frequently worked with Kevin (at least 2 times a week) and I believe he helped advance my skill set immensely. He constantly challenged me and pushed me. He helped me get better every time I stepped on the ice with him. He is constantly expanding his knowledge and therefore helping me expand mine. I will continue working with Kevin for years to come. Kevin helps take everyone's game to the next level."
- Lisa Callaway - 04 AAA Goalie Parent
"Yesterday was a sensational day for Bailey and for our family (winning the 16u AAA 2021 National Championship with Little Caesars). I wanted to reach out to say how much we appreciate all that you have taught Bailey in the course of this year as well as all of the support that you have given her! She made amazing progress by taking lessons with you that enabled her to perform at her best and grow her game tremendously. The success keeps coming as Bailey is now committed to play NCAA Hockey at Boston College."
- Luke Beally - Jr. A Goaltender
"
Everything you are looking for in a goalie coach. Personable guy who cares for the improvement of your game but also your development as a person. Has never been shy to make it clear that he will do anything for his goalies on or off the ice. Knows his stuff, has goalies of all ages and skill levels and pushes them the same way in a competitive environment while having fun and learning at the same time. You give him your all, and he gives you his. You will not go wrong working with him and am very glad to have built a relationship with Kev.
"
- Michael Wolff - 06 AAA Goalie Parent
"
While KD has played an integral role improving skill development and performance, Kevin's influence has impacted my son far beyond the crease!
"
- Michelle VanZweden - 06 Goalie Parent
"My son had only worked with one goalie coach until we were referred to Kevin. Because of him, we have realized that an additional coach is a great asset. Kevin has made some subtle adjustments without changing our son's technique. He has fine tuned his strengths and has really been able to dial in on his weaknesses to help improve his game. Kevin is a great coach and our son really enjoys being on the ice with him."
- Mike Bush - Belle Tire 09 AAA Head Coach
"Kevin has been the Goaltending Coach for the past few seasons for my AAA team's. The minor details he has focused on with our goaltenders has really shown a large difference in their performance. He has done a very nice job with the goaltenders, and the fact that our goalies love working with him, also helps with their development because of the respect they have for him. This has led to them wanting to work that much harder when he is on the ice with them."
- Nevill Hargrave-Thomas - 07 AAA Goalie Parent
"What I like most about KD goaltending is the individualized and comprehensive approach.  Coach Kevin teaches basic foundational skills all the way through the most current advanced goaltending theory.  But it's not a one size fits all training program.  He regularly assesses my Daughters skills and delivers an age appropriate lesson that addresses her individual needs while embracing her creativity and individual style.  His program also reaches beyond the crease, teaching critical skills such as off-ice preparation and the mental aspects of the game that have been key to her growth as a goaltender.  And while he's doing all that….she's having fun!"
- Riley Martin - 05 AAA Goaltender
"I love working with Coach Kevin. He is an awesome goalie coach! He has great drills. He motivates me to do my best and pushes me when I need it. He makes me work hard, but I have fun doing it. I have learned a lot that has helped me become a better goalie. I look forward to working with Coach Kevin in the future."
- Steve Francis - Goalie Parent
"Kevin is an excellent goalie coach who is patient, knowledgeable and has a unique ability to motivate young goalies to work to their full potential. Kevin has worked with my son for over four years when he first started in a house league and is now playing on a competitive Yzerman team."
- Tim & Tracy Carpenter - Goalie Parents
"Over the years of our exposure to hockey we have seldom found a coach as dedicated and engaged as Kevin. He provides the same commitment to all his students – he respects them all and builds on the individual strengths/styles. He brings experience at nearly all levels with players from Mites to college and beyond – this not only insures that KD Goaltending provides unique experience. Kevin actively studies and brings cutting edge goaltending techniques and drills to build goalies at all levels. Goalies get fun but challenging training every time, building very sound fundamentals regardless of differing styles, body types or equipment (not 1 size fits all) in a thoughtful training regime (which often includes mind and body training for the advance goalies). One on one sessions are action packed and continuously advancing. The results are clear and I've seen his students stand out regularly.
KDG clinics are not another "goalie mill" focused on volume and money. Kevin and the KDG staff are focused on quality, respect and impact.  And the KDG clinics are sized to have a great ratio of coaches to goalies and this is unique and speaks volumes to Kevin's philosophy and commitment to developing each and every player."
- Tim Carpenter - Babson College
"Kevin has been a constant factor in my development over the past eight years and what stands out is his adaptability. Not only adjusting to more goalies as his popularity grows but also practice to practice. No two hours, of what is likely hundreds of hours at this point, ever feels redundant or without purpose. There is always a distinct purpose to each practice and a tangible goal for you to reach by the end of the lesson. On top of that, the drills and practice plans change and grow with the goalie. Kevin has a great ability of assessing where a goalie stands skill-wise and is sure to give that student exactly what they need to make the next step and then the next step.
I've never seen a goalie work with Kevin and be in over their head, but at the same time they are pushed on each and every rep. The longer I work with him the more I've seen that he knows how to push goalies to limits, but also how to slow down and convey concepts unlike anyone else I've worked with. There are a lot of goalie coaches in metro Detroit, but not many coaches can say they have the personality and knowledge to focus in on a goaltender's individual nuances and needs the way that Kevin Delamarter is capable of."
- Zach Bixby - Detroit Catholic Central High School Goaltender
"My first goalie session with Coach Delamarter was when I was 10, and I recently returned to train with Kevin at 15. I really like the personalization of his training sessions. When he recognizes a weakness in my game, he develops a set of drills to address my needs and quickly institutes those drills into my sessions. I like that he videos all my sessions so that we can review the film in real time during training, and then I can review the sessions on my own. I have been coached by high-school and college goalie instructors, as well as college goalies themselves and Coach Delamarter's skills as both a goalie and an instructor are second-to-none. I highly recommend Coach Kevin to any goalie just taking their first steps into the net as well as older goalies wanting to grow their game to the next level."